Blackviper M92F Electric Blowback pistol in clear
Write Review
Our Customers Rate Us
Questions?
Call 01708 853 232
One of our team will be happy to assist you! Lines open Mon to Sat 10am till 5pm
Description
Video Review
Warranty
Other Details
User Reviews
Delivery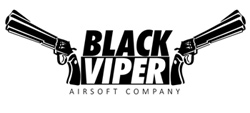 BLACKVIPER M92F BERETTA EBB PISTOL
(THIS NEEDS 4X HIGH-POWER DURECELL OR RECHARGABLE AAA BATTERIES)

KEY FEATURES/STATISTICS:

- 170/200 Fps
- 40 Meter Range
- 16 Round Magazine
- Metal Barrel
- Solid ABS Construction


DESCRIPTION:

Here we have the Black Viper M92F EBB, This is a low power electric pistol that would
be fantastic to use as a backup for backyard battles or for target shooting in the
garden where a Springer is not your style, This type of gun is weaker than most
springers, or any gas pistols, BUT it does give a good starting platform for players
looking to get a cheap gun that is something a little different for playing with.

Because this is battery powered the weapon does not need any gas to run, meaning for
a new player or someone who doesn't know the sport well, they will not need to keep
buying gas cans to refill their magazines, and instead can simply either recharge the
batteries, or replace them when they run dead.

This pistol, while having low power, does have an integrated hop-up meaning the range
is surprisingly good as is the accuracy - it will hit a target up to around 40/45 Metres with
little or no wind interference which is actually a decent range for such a low power weapon.

Because of the fact the power is reasonably low - this would be perfect for a younger sibling or
a son/daughter who wants an airsoft pistol, this is safer than a gas pistol for younger players and
is easier for them to operate than a Springer. Also by removing the batteries this means there is no
chance of the weapon accidentally firing when it is not supposed to.

(We would recommend using only 0.12's with this pistol)
PLEASE NOTE - IT IS ESSENTIAL FOR ALL PLAYERS AND ANYONE AROUND TO WEAR SAFETY GLASSES WHEN PLAYING WITH BBGUNS, DO NOT SHOOT AT ANY PERSON OR ANIMAL.

(We sell magazines for the gun here.)
Sku :
um-651bt-cl-2
Product Reviews
Write Review
Okay Product / With a few flaws

Posted by Unknown on 16th Mar 2019

I purchased the gun and received it fast and in a proper fashion. I have had some firing issues, it takes awhile to get up to speed if at all when firing. The trigger only works every few pulls and not as fast as advertised. Otherwise its a good gun!

Amazing product

Posted by Unknown on 21st Feb 2018

Very pleased with this purchase, it arrived on time and it works very well. It is also very accurate for an electric. The rate of fire depends on the type of battery you use I've tried many and I've found that Duracell work the best.

Great Value For Money!

Posted by Matthew on 3rd Dec 2017

Very powerful for the price and very comfortable to hold !

Perfect side arm for cqb

Posted by Joey on 30th Sep 2017

I'm a cqb skirmisher and find this perfect for what I use it for. It's not the most accurate gun at range (15/20+meters) but up close it's a great little side arm for getting round tight corners. Definitely use high quality bbs with this gun, cheap ones will jam up or cause misfire.

Nice

Posted by Jason on 19th Sep 2017

Nice gun, weight, etc
Batteries lasted more than a few clips at least, cheap ones out the drawer, not as bad as some of the reviews
Accuracy good, well worth the money
Was a gift, and well received :)

battery eater

Posted by Unknown on 30th Apr 2016

this gun is awesome, very nice weight to it and sounds pretty cool too (compared to other handguns) HOWEVER, If like me, you open the box then rush to poundland and by batteries, you will be dissappointed, using cheap batterys, it requires 12 to empty just 1 clip. MUST BUY DECENT BATTERIES

in my opinion

Posted by joe on 22nd Oct 2015

I think this gun is a amazing gun to use if you get good batteries and use 0.12 g this gun is amazing its comfortable in your hand and has good accuracy and range

Easy to use

Posted by Unknown on 22nd Oct 2015

This gun came with my mystery box and I definitely recommend the gun (and the mystery box). This gun is easy to use, quick to fire without the need to pull back the spring. The only drawback is the amount of pellets I go through!

Nicee

Posted by Unknown on 22nd Oct 2015

Great gun came in my £30 mystery box,feels great sounds great pack's a punch just make shure you use good quality bbs I use 0.20 bulldog bbs also decent batteries eg Duracell's.
Delivery Prices start from just £2.50 with free delivery on orders over £50 To the uk mainland *.
Tip - The easiest way to check the shipping cost for what you want to buy is put all of the stuff you want in to your basket. Then in your basket under the sub total there is a link for "Estimate Shipping & Tax" click this and fill in the details and it will tell you the shipping cost and if you qualify for free shipping
Free Shipping
Free shipping on orders over £50 UK mainland
Free shipping on orders over £100 Northern Ireland and highlands and islands & I.O.M
Free shipping on orders over £200 if you want delivery to Channel Islands
Free shipping is a 5 working day service (if you order Monday you get it the next Monday)
Delivery price

(mainland uk)
Royal Mail From (depending on weight) (2 days) £2.50
Yodel (tracked) (post as much as you want) (3 days) £4.75
Express shipping (1 to 2 Days Delivery) £5.95

Delivery price (Highlands and islands)
Northern ireland £ 7.95
Highlands and islands £ 7.50
I.O.M £7.95
Channel Islands £ 14.95

Other shipping
talk about this product with your friends!
comment for a chance to win awsome airsoft prizes. You must leave also post on facebook checked for a chance to win!