WoSport Air Filtration Gas Mask with Fan in Tan
WoSport Air Filtration Gas Mask with Fan in Tan
Write Review
Our Customers Rate Us
Questions?
Call 01708 853 232
One of our team will be happy to assist you! Lines open Mon to Sat 10am till 5pm
Description
Video Review
Warranty
Other Details
User Reviews
Delivery
WoSport Air Filtration Gas Airsoft Mask with Fan in Desert Tan


Key Features

- Strong construction
- Full face protection
- Adjustable size
- Working ventlation fan

Description

this BB Gun Protection Airsoft Mask is a full face mask that gives complete safety and comfort for the user and has a built in air ventilation filtration fan that also prevents the screen from fogging.
The Air Circulator takes AA battery (not inc) and is fully functional; this replica air filter can be fitted on either the left or right side of this airsoft mask.
The mask is made of sturdy plastic with adjustable 6-point head straps to fit most users, this BB gun protection mask is strong impact resistant and gives complete protection to your face, neck, nose and cheek.
The manufactor has quoted impact resistance of 420 FPS at 5mt; this is a highly recommended mask for airsoft or paintballing.
we sell this mask in black, desert tan and olive drab colours.

Details
Brand: WoSport
Name: Air Filtration Mask
Model: MA-27
Color: Desert Tan
Size: 18.5cm x 8.5cm x 19.5cm
Material: The main material is Thermoplastic Polyurethanes (TPU); the material of the lens is polycarbonate
Components: A mask, an elastic headband, a Filtration Fan (for ventilation), a piece of EVA head cushioning pad.
Net Weight: About 0.36kg
Impact Resistance: This product has passed ANSI Z80.3 drop ball test, and at a temperature of -10℃~42℃, the minimum impact resistance of the lens is 420 FPS (the effective distance is 5 meters).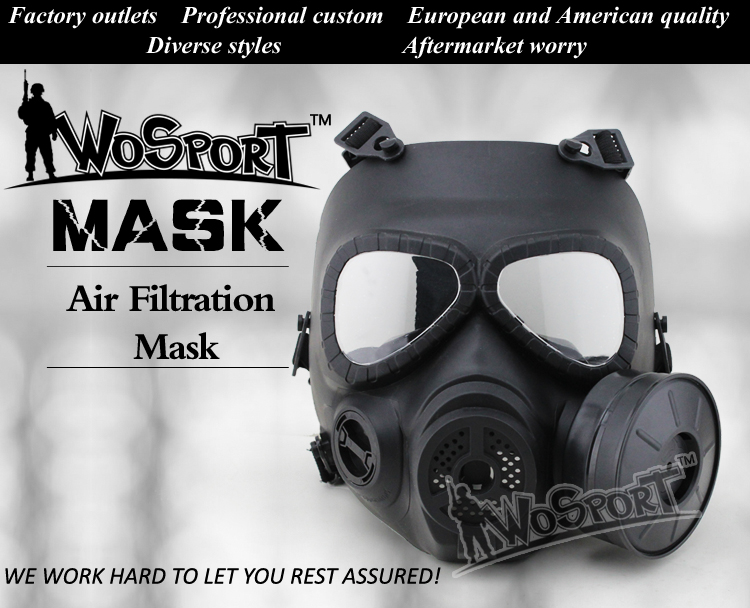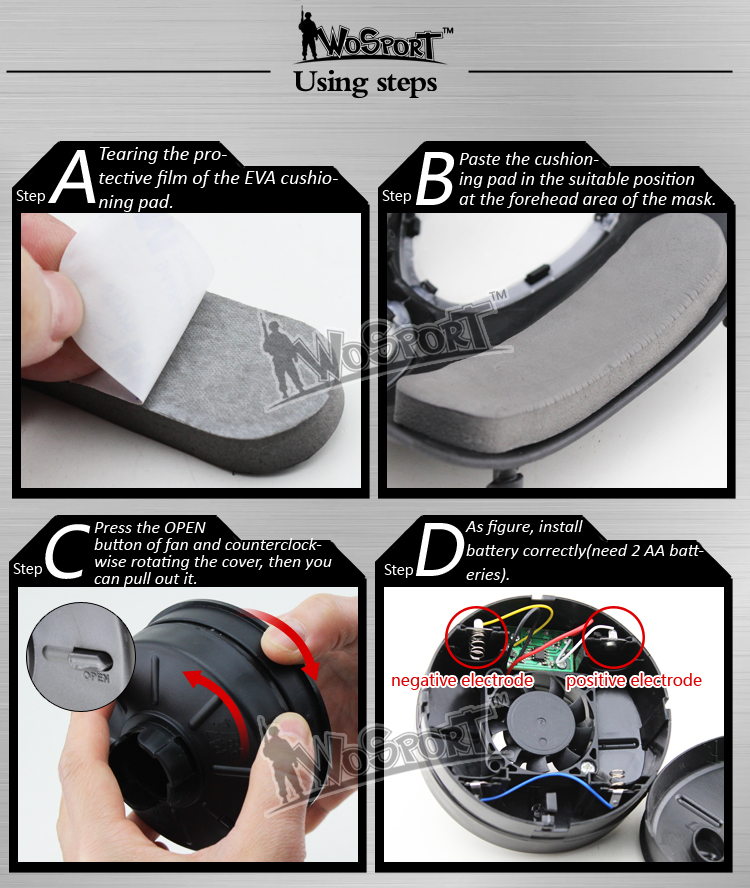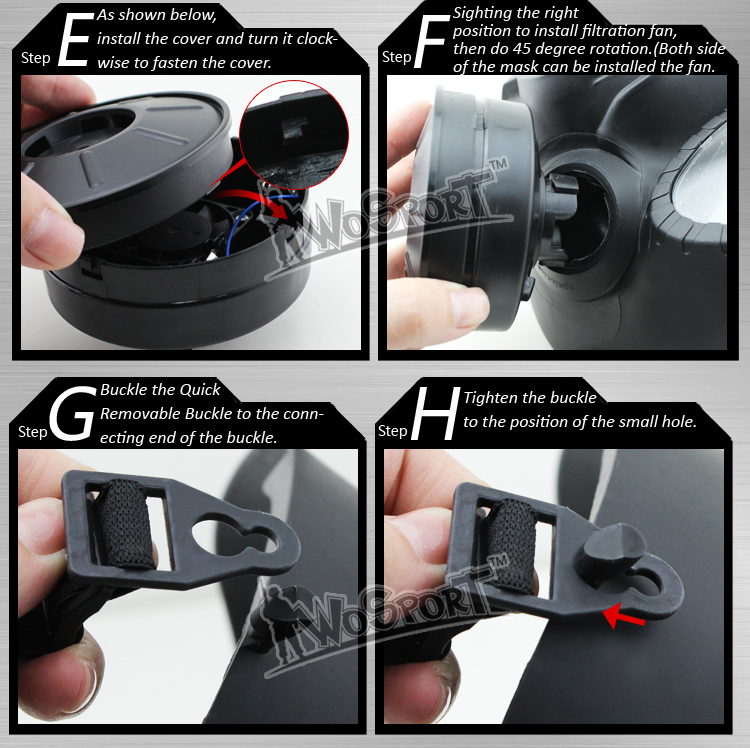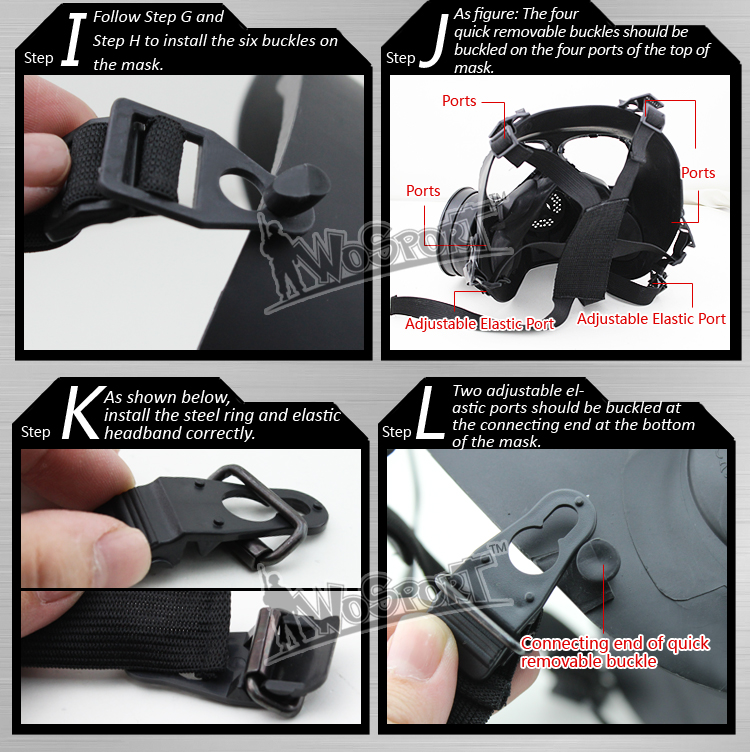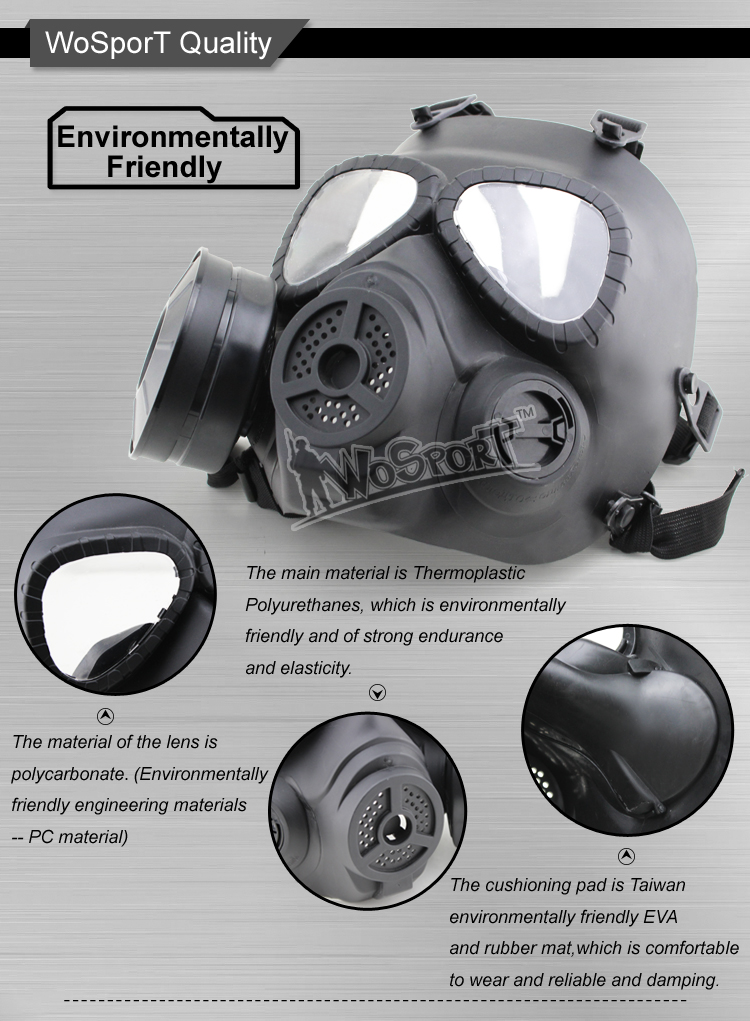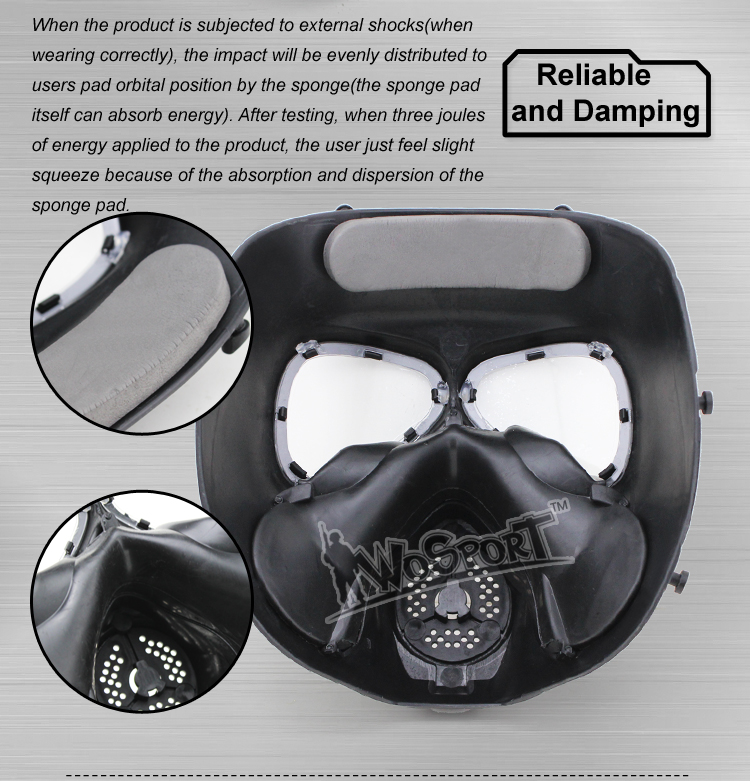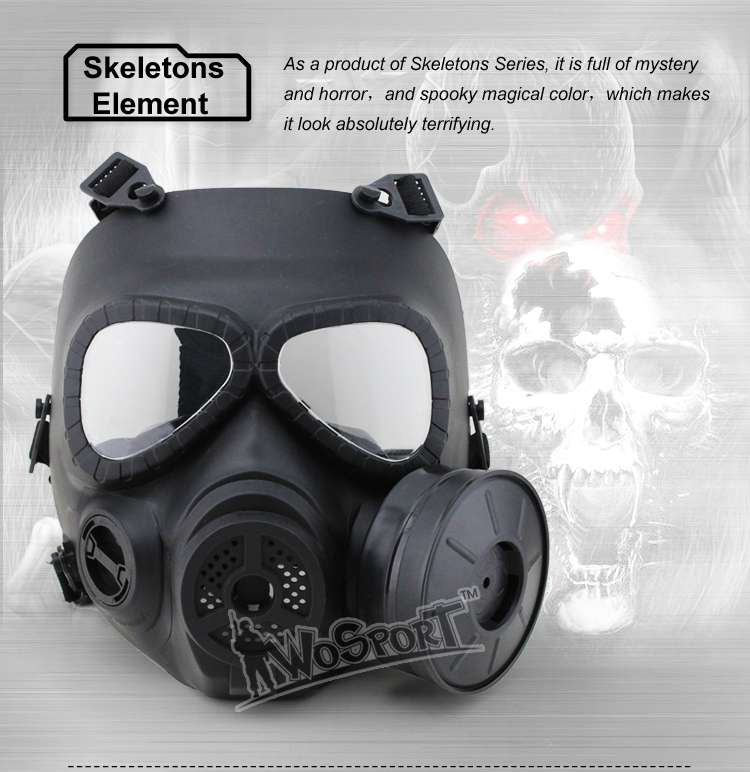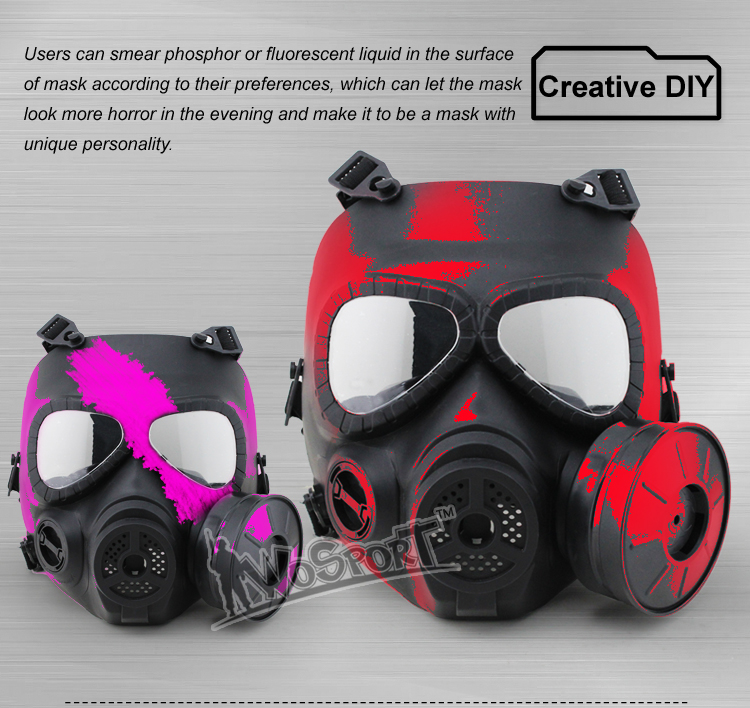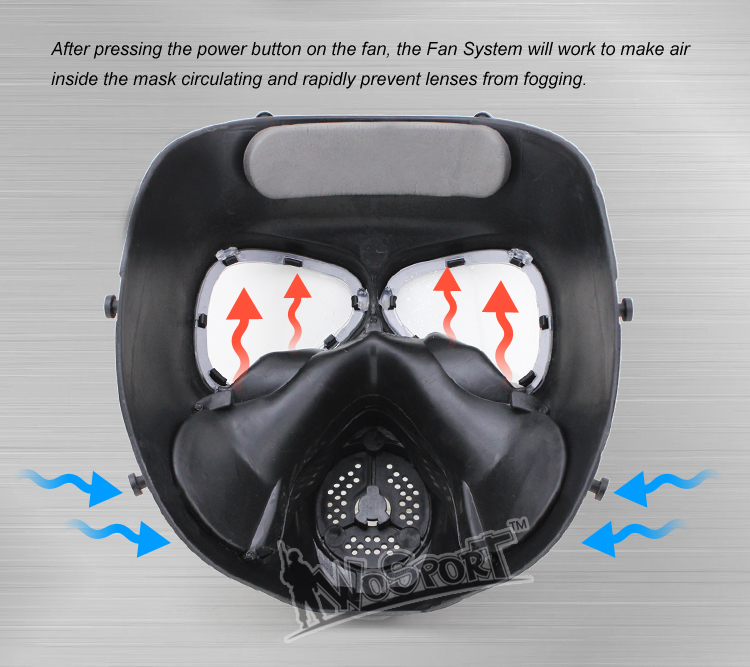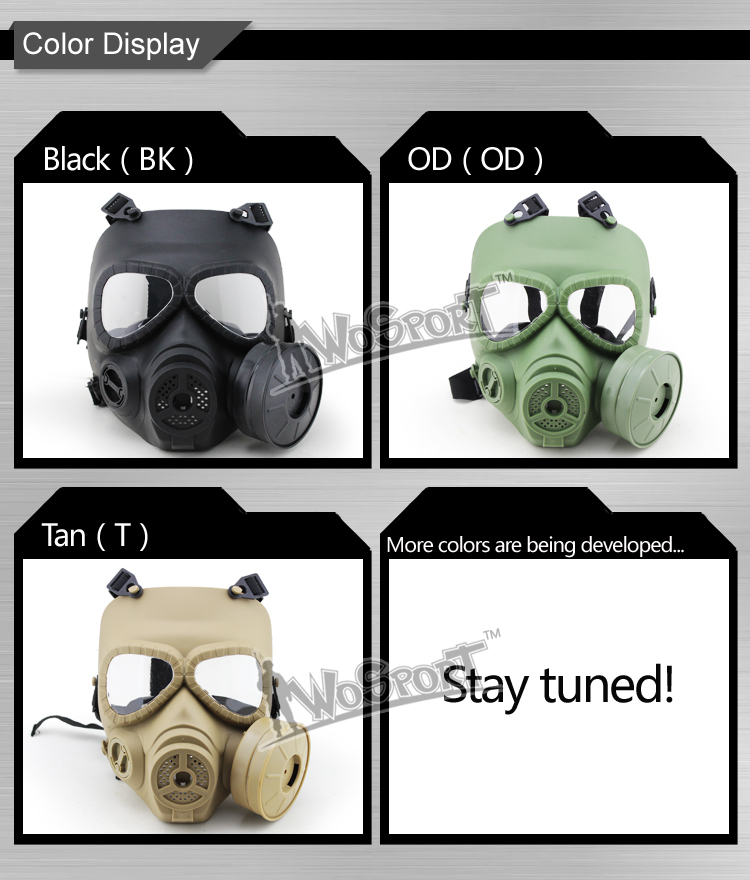 Sku :
MA-27-T
Delivery Prices start from just £2.50 with free delivery on orders over £50 To the uk mainland *.
Tip - The easiest way to check the shipping cost for what you want to buy is put all of the stuff you want in to your basket. Then in your basket under the sub total there is a link for "Estimate Shipping & Tax" click this and fill in the details and it will tell you the shipping cost and if you qualify for free shipping
Free Shipping
Free shipping on orders over £50 UK mainland
Free shipping on orders over £100 Northern Ireland and highlands and islands & I.O.M
Free shipping on orders over £200 if you want delivery to Channel Islands
Free shipping is a 5 working day service (if you order Monday you get it the next Monday)
Delivery price

(mainland uk)
Royal Mail From (depending on weight) (2 days) £2.50
Yodel (tracked) (post as much as you want) (3 days) £4.75
Express shipping (1 to 2 Days Delivery) £5.95

Delivery price (Highlands and islands)
Northern ireland £ 7.95
Highlands and islands £ 7.50
I.O.M £7.95
Channel Islands £ 14.95

Other shipping
talk about this product with your friends!
comment for a chance to win awsome airsoft prizes. You must leave also post on facebook checked for a chance to win!