Our Customers Rate Us
Questions?
Call 01708 853 232
One of our team will be happy to assist you! Lines open Mon to Sat 10am till 5pm
Description
Video Review
Warranty
Other Details
User Reviews
Delivery
Multi-Function bb gun Automatic Target
Want to play against your friends and see who gets the highest score? (click here for a video review)
This Multi Function bb gun Automatic Target from wellfire is all that you need this great bb gun target comes with three great ways that you can set it up.
The Multi-Function bb gun Automatic Target kit is a bbguns4less top selling product that comes with an auto reset feature that's easy to work and fun to play with.
On this new version 2 model of this target you need no batteries to make it work (unlike the first version) you just shoot the targets down one by one and when you hit the last target they all pop up again automatically ready for the next player to try his luck.
Also, you can change the game by attaching the paper targets that also come with it.
Another cool feature is that it collects all of the bb pellets you fire at it in the back net of the target so when used indoors it will keep your place cleaner and save you wall's from bb pellet marks.
Also on this new version of this product, all of the knockdown target parts are made with a sort of rubbery material, so they are much stronger and don't easily break like the first plastic version of this target.
You can use this target with almost any airsoft gun or bb gun, and it also works as a superb target with Nerf guns.

Features.
Target includes Net to catch the BBs.
The targets re-set automatically once all of them are knocked down. (new version 2 with no batteries needed)
New stronger targets (new version)
Paper target game
3 different ways to set it up
Also works with Nerf guns
New lower price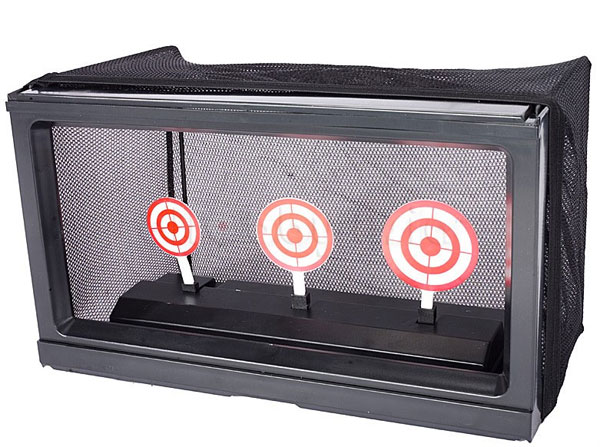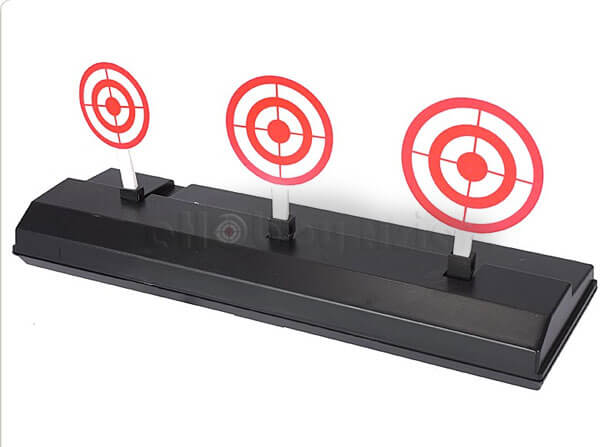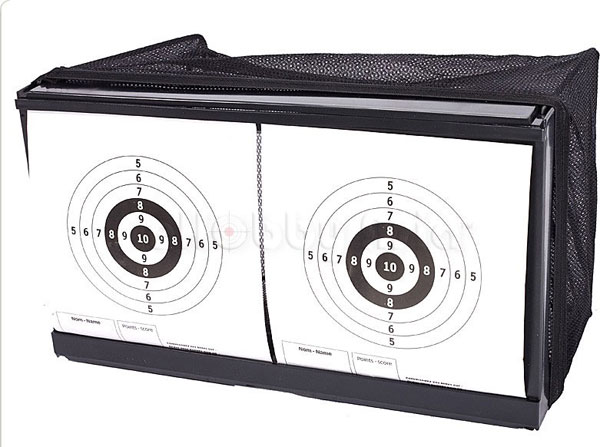 Sku :
05-b1
Product Videos

MULTI FUNCTION TARGET SET UP & SHOTING TEST BB GUN NERF GUN TARGET
MULTI FUNCTION...

To buy this bb gun & nerf gun target or to see the price, phot...
Other Details
SpecialOffer:
SpecialOffer
Product Reviews
Write Review
Lots of fun

Posted by Fiona on 13th May 2018

I think this is a reasonable target for beginners, if you hit the targets slightly above centre they lay down; we are using a double eagle with 220 fps and 1.2g bbs, perhaps the targets respond differently to more powerful guns/ different ammo. I think it is designed to be used largest to smallest as when you hit the smallest target they all reset to the upright position (Although you can re-order the targets as they are removable, so what I mean is the target on the left resets them all). The net catches the bb's that haven't ricocheted away. All in all a good, fun purchase; we bought it at the reduced price of £11.99 and feel it is good value for money.

Cheap materials bit great price

Posted by Unknown on 15th Sep 2017

The target is hard to setup and the targets don't get knocked down sometimes and the targets are made of very cheap plastic but actuly don't break too easy and this is very good for beginners

Great target

Posted by Chris McCaffrey on 20th Aug 2017

Only drawback is the cardboard target refills, You only get 2 with it and the paper refills on the site don't fit.Great target though.

Great item

Posted by Peter on 9th Aug 2016

Good item

good

Posted by Unknown on 10th Jul 2016

quite good but sometimes targets don't knock down
apart from that it is a good target!

cool

Posted by Unknown on 10th Apr 2016

fun to play with friend and family competitive and fun

Great target

Posted by Mr. G. on 22nd Mar 2016

Easy to setup, very good automatic target.

Very good target

Posted by Mr. G on 16th Mar 2016

Arrive on time and easy to set up. Enjoying the automatic function of it. (",)

me

Posted by steve on 18th Nov 2015

great target

saviour

Posted by Unknown on 11th Aug 2015

son very happy now I can get rid of cardboard boxes he been using
Delivery Prices start from just £2.50 with free delivery on orders over £50 To the uk mainland *.
Tip - The easiest way to check the shipping cost for what you want to buy is put all of the stuff you want in to your basket. Then in your basket under the sub total there is a link for "Estimate Shipping & Tax" click this and fill in the details and it will tell you the shipping cost and if you qualify for free shipping
Free Shipping
Free shipping on orders over £50 UK mainland
Free shipping on orders over £100 Northern Ireland and highlands and islands & I.O.M
Free shipping on orders over £200 if you want delivery to Channel Islands
Free shipping is a 5 working day service (if you order Monday you get it the next Monday)
Delivery price

(mainland uk)
Royal Mail From (depending on weight) (2 days) £2.50
Yodel (tracked) (post as much as you want) (3 days) £4.75
Express shipping (1 to 2 Days Delivery) £5.95

Delivery price (Highlands and islands)
Northern ireland £ 7.95
Highlands and islands £ 7.50
I.O.M £7.95
Channel Islands £ 14.95

Other shipping
talk about this product with your friends!
comment for a chance to win awsome airsoft prizes. You must leave also post on facebook checked for a chance to win!