Our Customers Rate Us
Questions?
Call 01708 853 232
One of our team will be happy to assist you! Lines open Mon to Sat 10am till 5pm
Description
Video Review
Warranty
Other Details
User Reviews
Delivery

This is the ICS-190 GLM grenade launcher.
Starting off with the basics, this weapon is only metal exactly where it
needs to be. The rest of it being polymer. The support has good rigidity
and strength, but it's only 2.1 kilos when empty, about 1 pound, making it
far lighter than most APG's. Even when fully loaded, it's only going to be
at most about 3.5 kilos, putting it on par with an M4, even fully loaded
with grenades. With an adjustable M4 stock, it goes from 63 to 73
centimeters, which puts it in roughly the same size category as an M4. In
fact, it's actually a little bit smaller.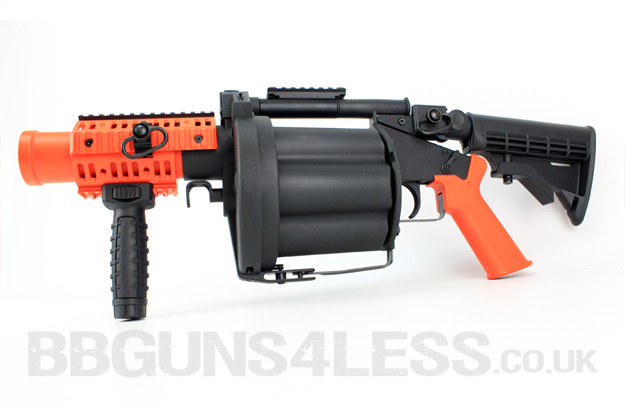 In all the revolver launcher designs, there would be a catch up top, and it
would break open like a double barrel shotgun, which was fine for the old
style, but of course, with all that weight spinning around, it made it hard
to control. With the new one, it emulates the real steel M32, so pop the
catch and it open sideways.
Now the revolver system is actually spring loaded, so you quite simply wind
it up. Alternatively, you can open it and wind it up which is
actually much easier. then you just fire as quickly as you can pull the
trigger.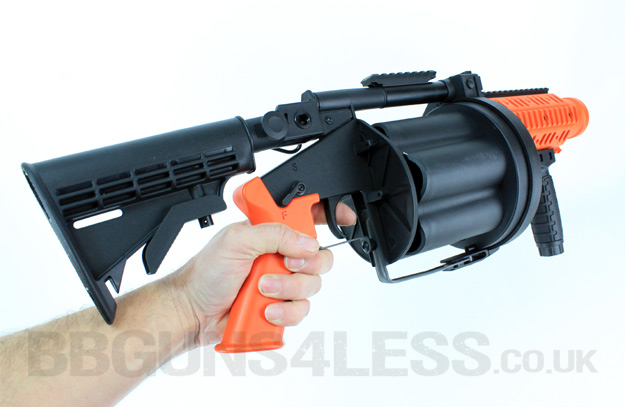 Should you find yourself at the end of the game with unspent
shells and still spring tension in the weapon, you can release it with a
spring release catch.
The stock is adjustable. So if you want to, you can tilt it dramatically
and use it for aiming up over cover. And of course, like any Beasty gun
should, it does have a safety catch. Safe, fire safe, and it's
ambidextrous.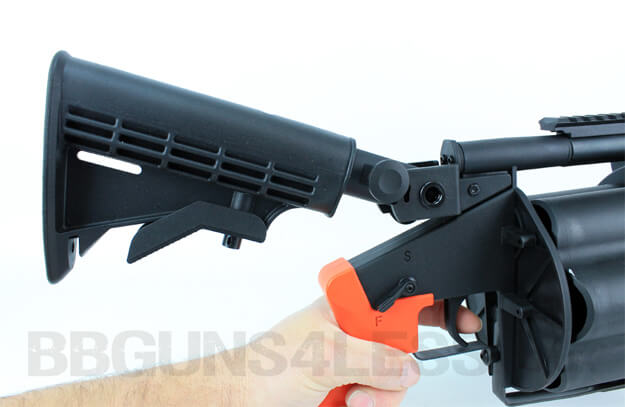 Of course, the eight inch barrel does have a six inch, four sided rail
system and comes with robust grip and has a little rail on top for mounting
optics. It does come with sling attachments. They're quick attach. There's
one right on the back, and one rail attachment on the front. For
lefties, that does mean you can quick detach it and move it to the other
side. The rail attach one wherever else you want it.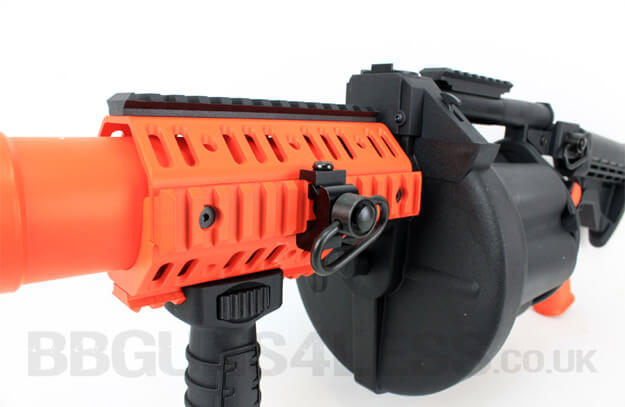 The ICS-190 GLM Grenade Launcher featuers
Made from industrial high strength plastic material. Light weight, high portability & maneuverability, Suitable for airsoft war game.

Reproduce the revolver structure. The operation is same to real steel.

ICS GLM equips a M1913 quad rails handguard. It is compatible with accessories compatible with M1913 military standard.

The stock can adjust 6 lengths and 3 angles.

ICS GLM is compatible with ICS MA-77 grenade and the 40mm grenade on the market.

| | |
| --- | --- |
| Model | ICS-190 GLM |
| | |
| Motor | N/A |
| Material | Industrial high strength plastic material |
| Velocity | Velocity varies according to different gas pressure and grenade |
| Length (total) | 729mm |
| Length (fold) | 631mm |
| Barrel length | 203mm |
| Weight | 2,200g |
| Caliber | 40mm |
| Grenade weight | 230 g. |
| Grenade capacity | 6 rounds |
| Spring setting | N/A |
| Gears | N/A |
| Bushing | N/A |

please note shells do not come with the gun
Sku :
ics190rgl
Delivery Prices start from just £2.50 with free delivery on orders over £50 To the uk mainland *.
Tip - The easiest way to check the shipping cost for what you want to buy is put all of the stuff you want in to your basket. Then in your basket under the sub total there is a link for "Estimate Shipping & Tax" click this and fill in the details and it will tell you the shipping cost and if you qualify for free shipping
Free Shipping
Free shipping on orders over £50 UK mainland
Free shipping on orders over £100 Northern Ireland and highlands and islands & I.O.M
Free shipping on orders over £200 if you want delivery to Channel Islands
Free shipping is a 5 working day service (if you order Monday you get it the next Monday)
Delivery price

(mainland uk)
Royal Mail From (depending on weight) (2 days) £2.50
Yodel (tracked) (post as much as you want) (3 days) £4.75
Express shipping (1 to 2 Days Delivery) £5.95

Delivery price (Highlands and islands)
Northern ireland £ 7.95
Highlands and islands £ 7.50
I.O.M £7.95
Channel Islands £ 14.95

Other shipping
talk about this product with your friends!
comment for a chance to win awsome airsoft prizes. You must leave also post on facebook checked for a chance to win!