Our Customers Rate Us
Questions?
Call 01708 853 232
One of our team will be happy to assist you! Lines open Mon to Sat 10am till 5pm
Description
Video Review
Warranty
Other Details
User Reviews
Delivery

CYMA CM.030 AEP (BLUE)

KEY FEATURES:

- Around 210/220 Fps
- 25 Round Magazine
- High ROF On Full Auto
- Metal internal parts
- Plastic slide
- Strong ABS Body
- Rechargeable battery pack

DESCRIPTION:
We are very proud to introduce the CYMA CM.030 AEP, This is an exact 1:1 scale replica of a Glock18 Pistol, and has the
same fully automatic capability as the real pistol. Electric skirmish-grade pistols are a moderately recent introduction to
the airsoft world and are becoming ever more popular in the UK - CYMA are known for making some of the greatest
airsoft AK47's money can buy, and as such - with a reputation like that it is only natural to expect something good,
and the CM.030 does not disappoint.

Electric pistols have the advantage over gas that they are not subject to cooling effects - they are able to keep running
non-stop until the battery is depleted without having to worry about gassing up the mags, and so forth. They can also be
converted to take LIPO batteries by any of your local airsoft technicians - this WILL lower the life and void your warranty
BUT, will up the fire rate to something incredible.

The battery for this weapon is stored inside the upper section of the gun, and the entire slide removes to become the
battery housing - the motor is an AEG AK style motor and is housed in the handle of the pistol behind the magazine.
The magazine itself is a sleek thin design, but is nonetheless a double stack system and holds 25 BB's.

We have this bb gun made in china with a factory two tone finish and too a UK Spec, meaning the blue parts are made of blue plastic, and not just spray painted like other uk websites.
this means the when the blue parts scrashed you wont see the black underneath the paint making the gun look old, also when its painted you sometimes will see overspray, bubbles or imperfection in the paint job. also you will get a Rhos tested UK Charger and Battery That we pay CYMA Extra for, with most other companys you will get a EU charger.
We sell spare batteries for this gun here.
Box Contents:
Pack of pellets - 0.20g

Includes Unique AEP Battery (7.2v) ni mh 500mAH

Includes Charger

Manual + Parts List

Un-jamming / Cleaning Rod

Speed loader

STATISTICS:

Scale: 1:1
Weight: 675g
Length: 201mm
Magazine: 25 Round Mag
Measured velocity: Up To 225Fps
Hop-Up: FULLY adjustable
Fire mode: Single/Full Auto (8RPS)
Barrel type: Metal
Battery: Unique


We sell spare mags for this gun here Lo-Cap 27 rounds & Hi Cap 100 rounds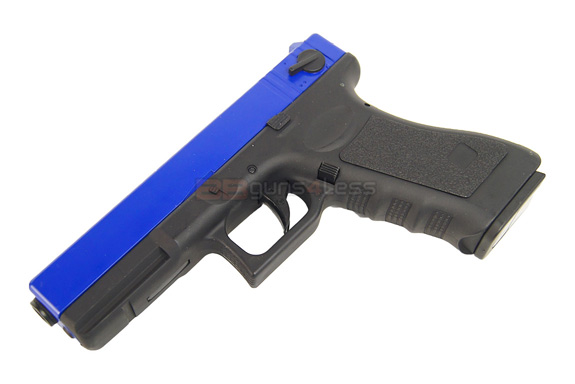 <im
Sku :
CM030-BL
Product Videos

CYMA CM030 AEP AIRSOFT BB GUN REVIEW
CYMA CM030 AEP...

To buy the Cyma CM030 Electric Pistol from the video or just s...
Product Videos
Other Details
SpecialOffer:
SpecialOffer
Product Reviews
Write Review
Best semi automatic pistol you can get

Posted by Michael Brookes on 3rd Oct 2021

Wow what can I say I bought the uzi electric it was great then the AR electric wow was that good but yesterday I got this gun when u fire it in full automatic it tears shreds out cardboard target plus I shot an onion and every bb went right into middle of it I've never seen a BB gun like this u have to feel it on full automatic

Great sidearm

Posted by Unknown on 6th Aug 2021

The gun is great. It has a nice weight, shoots well, and at a great distance.
It is pretty accurate however if you are going to use automatic a lot, I would recommend getting spare magazines, as it goes through BBs pretty quickly.

At first, it can be confusing to know the best way of putting the battery in, without thinking you are going to break it. The battery can be removed using a circular lever. The first couple of times this is used, it does feel like you are going to snap it, however, it works well.
The charger for the battery does use a UK plug, unlike before. However, there is no way to tell if it is charging; no light or anything, but I don't see this as being a huge problem.

The hop-up is easily accessible and useful.

If you are right-handed, the safety switch is in a great place for your trigger finger to switch it on saftey. You can easily change to automatic/semi-automatic using your thumb.

It would be nice to know which holsters are compatible with it, as it is a bit of a guess at the moment.

I would definitely recommend this for anyone looking for a good pistol without having to keep purchasing gas.

Good Gun

Posted by Dave on 5th Aug 2019

It's a fun gun that works well, fast charge around 30 mins and you get about 90 shots from that. Feels very solid and good in the hand. Easy battery removal for recharge. All in all a good little gun.

Pretty good

Posted by Unknown on 8th May 2019

Nice back up, especially useful in the colder months when the gas doesn't cut it.

Solid, accurate and reliable

Posted by Zayne M on 25th Dec 2018

I got this for Christmas, and after charging the battery for 30 mins straight out of the box, I fired around 90 bbs through it. The battery charges very quickly and is powerful enough to sustain a high firerate and fps. The plastic frame is very solid and sturdy and feels great in the hand. The sights are painted and are good. The magazine is a nice design as it remains compact, yet managing to store around 30 bbs. I would definitely recommend this gun, it is very accurate at up to 40 metres and over, overall a great AEP

best AEP out there

Posted by Jordan monkhouse on 7th Nov 2018

very good gun


Really good for the price

Posted by joe kean on 17th Oct 2018

i gave 90 pounds for mine last year so i am a bit gutted, but i have used it a lot so never mind. but for this price, i would recommend it is a good pistol if you don't want the expense of buying gas

Wow! Unbelievable service.

Posted by Adrian D. on 24th Apr 2018

The pistol arrived within two days (free p&p), excellent, undamaged packaging.
The piece itself has good weight and finish. The accessories are all you'd wish for, even to the point that they now supply a charger which is UK-compatible.
The gun shoots well and the hop-up adjustment is easy.
The perfect backyard plinker.

Great Starter Sidearm

Posted by Unknown on 25th Mar 2018

I just bought this for the fun of it and i was extremely surprised at it, great distance and super accurate, only downside is that its a tad loud but out on the field it dosent matter too much, definitley reccomend for anyone looking at their first pistol purchase!

Brilliant, but common fault

Posted by Unknown on 3rd Feb 2018

The gun its self is just the right power, perfect assembly and very user friendly, it works a dream. But there is a common fault for the charger of the battery not to work, its only worked about three/four times after havin the gun for about four/five days! I've gone to forums to find a way around it and looks like im going to have to invest in a smart charger which sucks.

1 flaw

Posted by Unknown on 12th Apr 2017

I cant remove the battery without breaking the top part, and it took 4 days to deliver with free shipping, but other from the battery its a great gun!

good gun

Posted by Unknown on 5th May 2016

Gun arrived swiftly and works well.
Delivery Prices start from just £2.50 with free delivery on orders over £50 To the uk mainland *.
Tip - The easiest way to check the shipping cost for what you want to buy is put all of the stuff you want in to your basket. Then in your basket under the sub total there is a link for "Estimate Shipping & Tax" click this and fill in the details and it will tell you the shipping cost and if you qualify for free shipping
Free Shipping
Free shipping on orders over £50 To UK Mainland (excluding some parts of scotland)
Free shipping on orders over £100 To Northern Ireland & the Republic of ireland, Scottish highlands & islands, and I.O.M
Sorry we do not offer free shipping to the Channel Islands
Free shipping is a 5 working day service* (if you order Monday you get it the next Monday)
Delivery price

(Mainland UK)
Royal Mail (depending on weight) (2 Days Delivery*) From £2.50
Economy (post as much as you want) (2 to 4 Days Delivery*) £4.75 Flat Rate
Express shipping (post as much as you want) (1 to 2 Days Delivery*) £5.95 Flat Rate

*Working days (Saturday and Sunday are classed as non working days)

we can arrange a Saturday delivery on request but costs £20 and you will need to call us to pay the balance after making an order.
Delivery price (Ireland, Scottish Highlands & Islands)
Northern Ireland From £ 5.95
Highlands and islands From £5.95
I.O.M From £5.95
Republic of Ireland £6.95 (Flat Rate how ever big or small your order is)
Channel Islands £ 7.95 (Flat Rate how ever big or small your order is)

Delivery price (International Tracked)
(Flat Rate how ever big or small your order is)
Republic of Ireland (IRL)---- £6.95 Price Drop WAS £16
Belgium (BE)--------------- £7.95 Price Drop WAS £15
Netherlands (NL)---------- £6.95 Price Drop WAS £15
Germany (DE)-------------- £6.95 Price Drop WAS £25
Luxembourg (LUX)--------- £9.95 - NEW
France (FR)----------------- £9.95 Price Drop WAS £25
Austria (AT)---------------- £11.95 - NEW
Greece (GR)---------------- £12.95 - NEW

Sweden (SE)-------------- £14.95 - NEW

Denmark (DK)------------ £9.95 Price Drop WAS £15
Finland (FI)--------------- £15.95 - NEW
Italy (IT)------------------ £11.95 Price Drop WAS £16
Portugal (PT)------------- £11.95 Price Drop WAS £18

Poland (PL)----------------- £9.95 - NEW
Spain (ES)----------------- £12.95 Price Drop WAS £23
Sweden (SE)-------------- £11.95 Price Drop WAS £15

Slovakia (SK)------------- £11.95 - NEW
Slovenia (SL) ------------ £11.95 - NEW
Croatia (HR)-------------- £16.95 - NEW
Czech Republic (CZ)----- £10.95 - NEW
Hungary (HU)------------ £10.95 - NEW
Bulgaria (BG)------------ £14.95 - NEW
Romania (RO)------------ £13.95 - NEW
Switzerland (CH)--------- £12.95 - NEW
Turkey (TR)--------------- £17.95 NEW
Channel Islands ----------£ 7.95 Price Drop WAS £15

Other shipping
talk about this product with your friends!
comment for a chance to win awsome airsoft prizes. You must leave also post on facebook checked for a chance to win!