WE F226 with Rail Gas Blowback Pistol

This is a great new gun, featuring the new internals from WE, there is a great amount of power and kick to this gun.
The gun is made from metal apart from the polymer grips.
The SIG P226, usually referred to as P226, is a pistol made by Sig Sauer. It can be fired with 9mm, .40 S&W, or the .357 SIG. This handgun is adopted by the U.S. Navy SEALs .

Features:
Functional slide lock
Real type firing pin
Semi automatic shooting mode
Two tone metal and polymer
Anodised slide
25 + 1 Mag
Instruction manual
White dot sights
Textured grip
Hi grade inner barrel
Hard kick recoil , Great feeling.
Functional slide lock.
Under M1913 gun rail fit for any Laser or Flash light with RIS mount.

SIZE
Specifications:Specifications :
Magazine 21+1Rounds. One standard magazine included
Length : 200mm
Shooting Mode :Semi
Power Source :GAS
Weight (Gram):1046 (With Box)
Color : Black
Magazine Capacity :25 rounds
Materials :Metal / polymer
Bullet Type : 6mm BB
Power (Muzzle Velocity) : 330-350 fps
Manufacturer: WE

BB to use 0.20g, 0.23g or 0.25g bb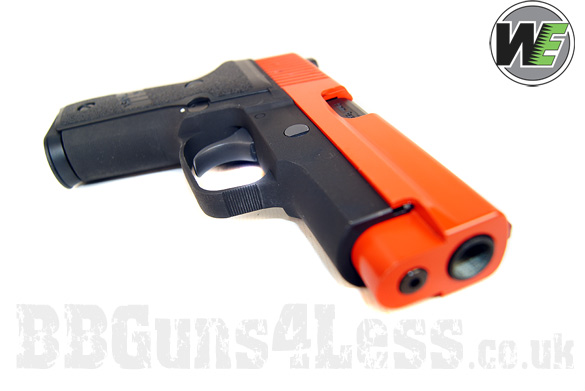 Send us your video bbgun review's and we will put them up on the site. click here to find out how..