Toy Guns & Kids Army Stuff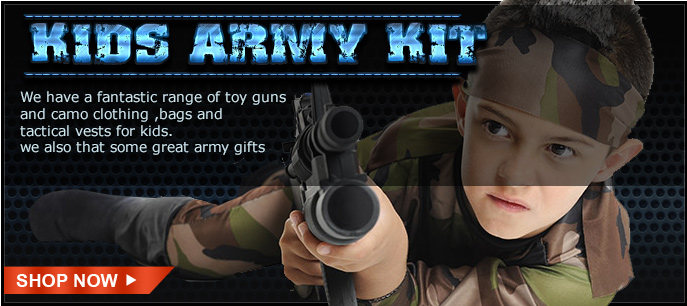 Kids Army Toy Guns and Camo Clothing.

Fun for all of the family here with our CE certified range of toy guns for kids,
we stock a large range of 3/4 scale black guns - some with lights and sounds
that are perfect for the kids to play with when you're trying to do some target
practice with your BB guns!
Listed here are also some low-power BB guns, these are all either easy-cocking
or easy to use in another way, meaning they are ideal for kids to use (under supervision)
Please remember that no matter how weak the weapon is, if it shoots anything
at all, then eye protection is always a MUST.
We are stocking new toy guns as often as possible, so check back soon.