BB gun Rifles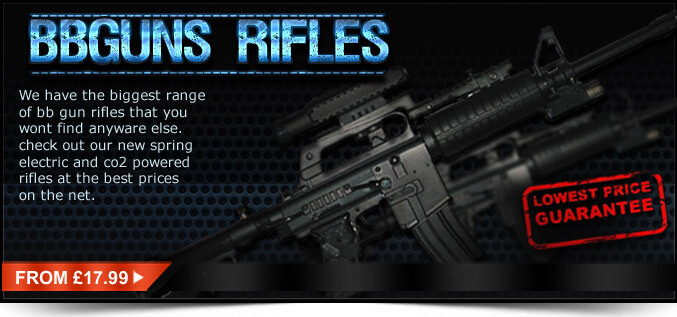 BB Gun Rifles

We are proud to have the largest range of Gas, Spring and electric two-tone guns on the internet,
spring guns are the common choice for starting players as they are cheap and simple.
The main difference between Springer weapons and electric/gas is that spring guns are manual,
meaning you have to cock the gun between each shot - however, you will not have to change
batteries or recharge the gas cylinder.
Our guns are perfect for any situation, with the cheaper weapons ideal for garden battles or target
shooting - they are accurate and realistic replicas based on numerous different real guns. However,
please remember that as with all things, "you get what you paid for" i.e. a £10 gun will not be better
than a £300 gun. (With the exception of some Springer rifles, where you can get a good, solid reliable
weapon for around £40)

One important thing to remember, as always, is to NEVER re-use bb pellets, and always remember
to use good quality bb pellets - cheap pellets WILL damage the barrel and hop-up.
Doing this will void your warranty.
Please Scroll down the page to view a full description of the different types of weapons,
and for some pointers on what to look for when buying a new gun.